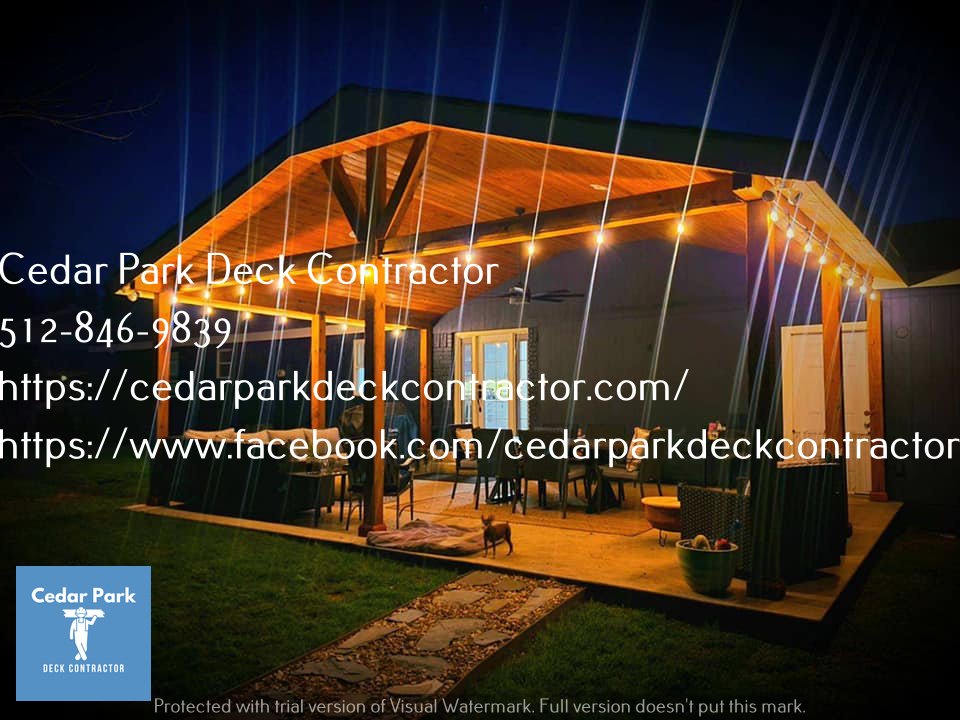 Cedar Park Deck Contractor is the covered patio builder for your outdoor area. Whether you are looking to add a covered patio to your backyard area or a commercial property, we are here to help. Our designers have constructed many beautiful covered patio structures with a variety of styles and sizes.
A major benefit of a covered patio is that it extends your living space into the outdoors. This addition to your home or place of business allows for the installation of lighting, fans, and electrical outlets. When under the protection of a well constructed covered patio, the weather plays a much smaller role in your outdoor experience. Therefore, rain does not mean cancellation. Additionally, the installation of fans eliminates the severity of the heat in the summer months. Also, electronics may be used and installed in this type of area. The possibilities are endless! Let's discuss your ideas for your outdoor patio today.
Covered Patios are Functional and Attractive
Covered patios in Cedar Park, TX are becoming much more common. Increasing amounts of homeowners and places of business are adding covered patios over decks and concrete patios. Not only do these structures provide protection from the elements, covered patios add style and beauty. As a covered patio builder, we know that there are few structures as functional and attractive as a covered patio. It serves as an accent and an additional useful area.
Our Covered Patio Builder Team Consists of Masons and Concrete Specialists
The experienced craftsmen at Cedar Park Deck Contractor have the experience and training to ensure that the base of these structures are secure and sturdy. We use gorgeous wood and concrete to construct the posts for the covered patio. Additionally, because our team consists of concrete specialists and masons, we incorporate stone and brick if so desired. The majority of deck building companies will have to contract out the concrete work needed for some projects. Cedar Park Deck Contractor handles everything ourselves. And, we offer so many more options for your outdoor areas because of our extensive skill sets. This gives you the option to add in stones and brick into the design of your covered patio. We guarantee you a stunning and picturesque covered patio that is durable and structurally sound, no matter which materials you prefer.
Contact Cedar Park Deck Contractor for all your covered patio questions. Our design team happily will discuss the various designs we offer for any type of patio you desire. Additionally, choose from the many types of materials available to create the ideal covered patio area for your property. You have the ability to choose from stone, brick, tile, wood and concrete. We can do it all. This is one of the many reasons Cedar Park Deck Contractor is heads above our competition. See for yourself the difference! Witness the professional manner and high level of skill our designers possess. Call us today!